Hosted Desktops
Hosted desktops remove the need for everyday desktop PCs in the office environment, and reduce the cost of providing the services that you need. A hosted desktop looks and behaves like a regular desktop PC, but the software and data you use are hosted in our data centres. Information is stored in our secure data centres and delivered over the internet, so your own, fully customizable desktop can be accessed wherever you are, whenever you want.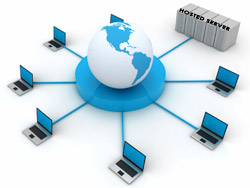 Currently businesses have to deal with the costs and risks of installing and maintaining the hardware and software that is needed, Fresh Computing provides 24/7 access to desktops and applications. Hosted desktops give you all the benefits of a sophisticated and responsive IT infrastructure, but at a fraction of the cost of the traditional model.
Above all, Fresh Computing can help you to greatly reduce your IT costs. Because your Hosted Desktops are stored, backed up and managed in our data centres, costs associated with hardware and software upgrades, anti-virus and anti-spam, IT support and disaster recovery are all taken care of. All you pay is a flat monthly fee per user, allowing you to budget for your business IT needs now and in the future.
With Hosted Desktops you can benefit from:
Freedom: Cost efficiency of a desktop without any of the hassle
Value: Offers affordable, predictable costs, substantially reducing the cost of delivering applications to end user
Simplicity: Simple browser login, web management portal
Security:Everything is backed up and enterprise grade security, no local data, secure login, restrict access
Scalability:From one user scaling up to hundreds